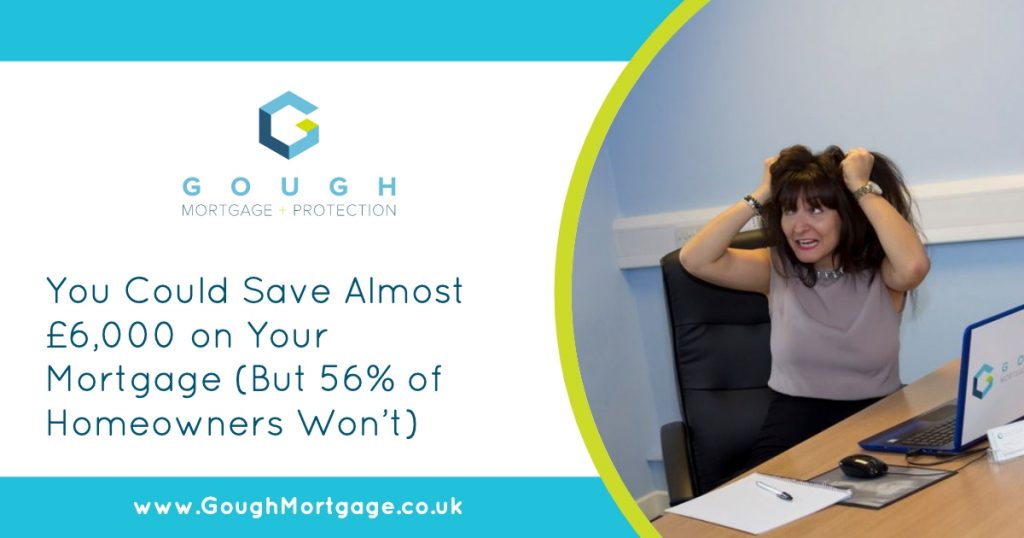 You Could Save Almost £6,000 on Your Mortgage (But 54% of Homeowners Won't)
As with any mortgage, getting the right product for your circumstances and your borrowing can make a big difference. Unlike decades ago, where a mortgage was for life (or you got a mortgage and never changed it) we're now seeing mortgages moved and changed as the lives and circumstances of the borrower change.
Getting the right product is vital, but making the most of that product is also important.
Recent research by Which.co.uk showed that some products aren't being used to their potential. This could be down to early good intentions falling by the wayside as the cost of life and running a home soon become apparent.
This is certainly true if you're a first-time buyer. The cost of utilities, home improvements, and even a weekly food bill (if you've moved from the safe haven of your parents' home) can be surprising, leading to a quick learning curve.
Often when a mortgage is taken out, there's the motivation and intention to pay the mortgage off sooner to save on interest, but this doesn't always happen.
Overpaying your mortgage monthly payments can dramatically decrease the interest you pay and of course reduce the time you spend paying off your mortgage. This simple, but exponential option, is available on pretty much all the mortgage products on the market, but 56% of home owners simply don't do it.
The maths behind over-paying more each month on your mortgage
If you have a mortgage, paying a small amount extra every month can make a big difference to your overall repayment.
Just £100 a month can make a huge difference:
Average mortgage in the UK: £130,720
Mortgage term: 20 years
Overpayments each month of just £100 on a 2.49% fixed mortgage would be £5,895 and the mortgage would be paid off three years, two months earlier. Source
Overpayments each month of just £100 on a 4.89% SVR (Standard Variable Rate) mortgage would be £13,506 and a reduced mortgage term of three years, four months!
As these examples demonstrate, just £100 a month can make a large difference to your overall mortgage as the interest is charged on the entire mortgage and over the time you have it. Paying early reduces the borrowing time and thus the interest and repayments you have to make.
Clearly, it makes sense to overpay, so why don't 54% of homeowners do it?
Paying back the minimum required, leaving them paying more – and for longer. This means that more than half of UK mortgages repayments will be more than they need be over their term and homeowners (in the long run) will be paying too much in exchange for lower repayments each month.
Is there another way?
As we say, getting the right mortgage product for you and your situation is key to paying the right amount as well as finding a mortgage for the home you wish to buy.
From the recent research there's a strong indication that people on an SVR mortgage will be paying too much. This is mainly due to the interest rates on SVRs being higher than other mortgages.
Reviewing your mortgage and speaking to an expert about the other options could not only reduce your monthly repayments, but also save you money in the long run. If you can change to a mortgage with a lower interest rate, you could potentially afford to pay back more and therefore reduce your repayment term overall.
A mortgage is no longer for life, remember?
Don't pay too much and don't pay for longer than you need to. There are often better products out there for you.
Is it time you had a review? Contact us now for a chat about your mortgage options. We deal with the whole of market and many of the options we have, you won't find on the internet.
Your home may be repossessed if you do not keep up payments on your Mortgage. Fees may be payable at a later stage.