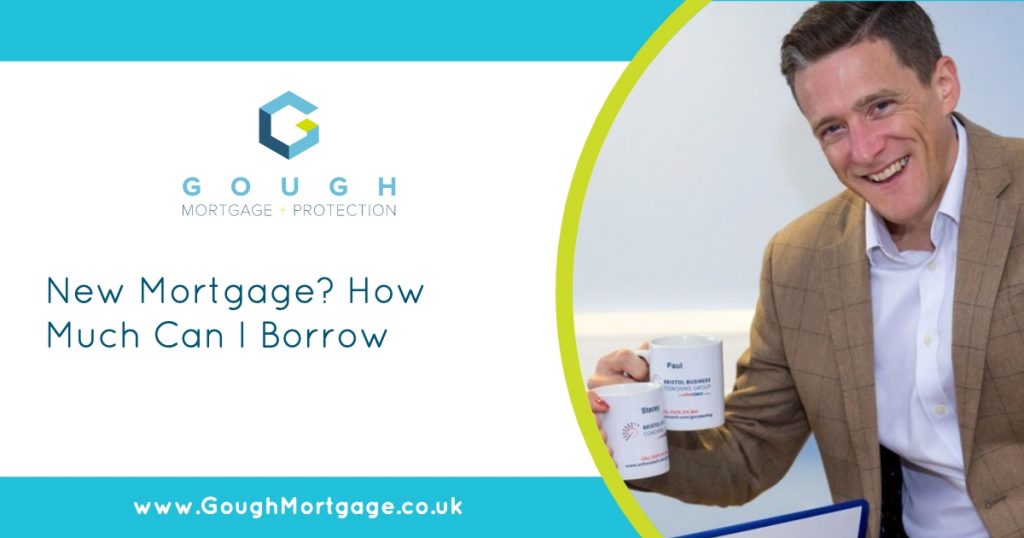 New Mortgage? How Much Can I Borrow?
A mortgage is a big decision and probably the largest amount of money you'll borrow in your lifetime. It's seen as a good investment, and even in these stormy times with Brexit and a weakened pound, investing in property is still seen as a sensible thing to do.
Aside from owning your own home, investing in property now and for the foreseeable future is still a good idea according to experts.
"Investors who have exposure to property as an asset are highly likely to be able to generate a return from it – demand outweighs supply." ThisisMoney.co.uk
That said, it's not a decision you should make quickly or without research. How much you can borrow is the key to most house purchases and this comes down to a few factors. Some factor you can change, so just because you've been rejected doesn't mean you won't get a mortgage.
Let's take a look and give you an idea of how much you could borrow.
How many times my salary can I borrow for a mortgage?
This is the classic way to work out your mortgage and has been the 'go-to calculation' for mortgage lenders. It will need to be proven, and some lenders will take into account future pay rises. As always, it pays to 'shop around' and find a lender that matches your needs and circumstances.
Lenders will usually lend up to 4.5 times your joint income, which in some instances can also include overtime and bonuses, state benefits, child maintenance and even pensions. Some lenders will lend 4.75 or 5 times income in certain circumstances.
Are you a newly qualified professional? Some will lend up to 5.5 times for 'young professionals' or newly qualified solicitors, doctors, or if you have a situation where your income is expected to rise quickly due to the nature of your career.
Can I afford a mortgage
You should think about this and your mortgage lender will ask you. "Can you afford it?", is a simple, but important question. You really don't want to apply for a mortgage you can't afford, and you certainly don't want to actually take on a mortgage that you can't pay back. That will put you under an enormous amount of pressure.
Your regular outgoings will need to be added up and declared when you apply for a mortgage, so grab a calculator and work out your monthly:
Household utility bills
Monthly loans or credit card payments
House and car insurance
TV licence and/or Sky TV
Mobile phone bill
Grocery shopping
Socialising etc
Childcare costs are now an important factor too. As more and more couples now both work, childcare is costly, but a monthly outgoing that lenders want to know about.
Many lenders will reduce your borrowing if you have more children dependent on you that need childcare to enable you to work.
Can I get a mortgage if I'm on benefits?
This is all down to your circumstance and the lender's approach to risk. Some lenders will take benefits such as child benefit, tax credit, and even child maintenance into account. The is part of your monthly income, after all.
Bear in mind that if your future situation changes and it affect your monthly income then you'll need to plan for it and certainly tell your lender at the time of application. Being on benefits or claiming credits doesn't mean you can't get a mortgage; it does however change who you can borrow from and how much you can borrow.
Some factors that will affect your amount of borrowing
These are the key, obvious factors that will affect how much you can borrow and thus the home you can choose or where you can house hunt.
These are:
Your credit score – based on the amount of credit you already owe and how good you are at paying it off. Having credit/debt isn't a bad thing and it can actually help you borrow more if you consistently pay it off on time and have a good record of doing so.
Improve or work on your score with Experian or similar.
Your income – clearly earning more will increase your income and then the amount you can comfortably pay each month. Lenders will ask for your monthly income so that pay rise or investment in your business will all help.
Go for that promotion before you shop for the new house.
Your outgoings – what you have to spend each month helps with the equation of how much you have left from your monthly wage and whether or not you can afford the mortgage.
Reducing or managing your monthly outgoings can help.
Loan to Value is a calculation based on the amount you need to borrow compared to the value of the property. So, if you're buying a £200,000 house with a £50,000 deposit then you'll need a £150,000 mortgage. This is a 75% LTV.
The higher the LTV percentage, the higher the risk is for the lender. The higher the interest rate charged, the higher the monthly cost and potentially the lower amount they will lend.
Putting down a larger deposit will reduce your LTV and your monthly interest.
Need help? The whole of market beats Google…
The mortgage you choose and the mortgage you'll be accepted for will depend on your financial situation and also the type of lender you choose.
We deal with the whole of market and work link a matchmaker, pairing up the best borrowers and lenders so every gets the best deal.
To arrange chat, contact us now.
Your home may be repossessed if you do not keep up payments on your Mortgage.