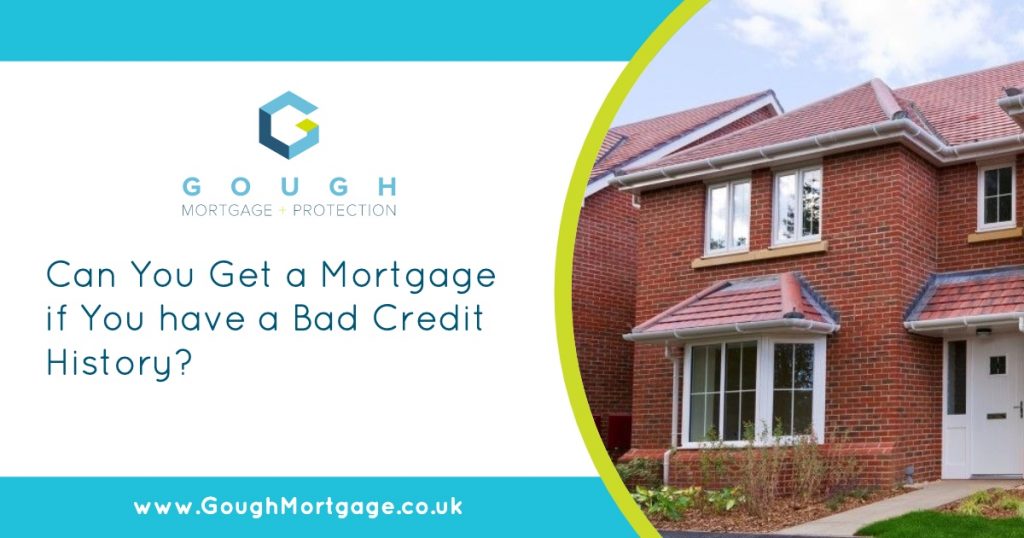 Can You Get A Mortgage If You Have A Bad Credit History?
A mortgage is likely to be the biggest borrowing you'll ever take out in your life. A home is a large purchase, but it's still seen as one of the more sensible places to invest your money. Mortgage lenders are often more likely to lend you the money for a house than another lender would with a typical loan that's not secured against an asset.
It might feel like a mind-blowing time when you're trying to secure a mortgage but the thing to reminder is this: Your circumstances will often determine the mortgage you can be offered, and this is where you should start when you're looking for a lender.
When you apply for a mortgage there are obviously going to be a few checks. With such large borrowing the lender you opt for will have to fit you with the criteria that they work with.
It's rare that any two lenders are exactly the same so 'shopping around' or choosing an advisor like us that has access to the whole of market is recommended.
But with all the checks and hoops you have to go through, are bad debts going to put a stop to you getting a mortgage?
Bad debt isn't the end of your mortgage application
There's a common misconception in the housing market that if you have a poor credit history, you may not be able to get a mortgage. This isn't necessarily true. Clearly if you're not one to ever pay your bills then a mortgage lender will take that into account, but a few past mistakes are not the end of the line for your application.
Whilst some high street lenders may say "No" if you've slipped up in the past, advisors like us have access to the whole of the mortgage market, including many lenders who can not only help, but who actually specialise in poor history and low credit scores.
We find that a lot of our clients think that one blip on their credit file is all they need to be declined a mortgage but if that's your situation then don't worry, there are more routes to getting a mortgage.
Myth: You have to wait for the bad debt to 'drop off'
Lots of house hunters believe that they have to wait for six years for a bad debt to drop off their credit history before they can apply for a mortgage, but this isn't always the case.
Had a blip in your payments in the past? There's hope for you yet…
A 'blip' in your history could have been:
• Late mortgage payments.
• Late unsecured debt payments on a credit card, loan, or car lease.
• Or a default on payment or a CCJ (County Court Judgement).
• Even Bankruptcy, IVA or Debt Management Plans
You can find out more about CCJs and what they mean to your finances here.
In any of the above scenarios there will be lenders who will help you. Of course, it all depends on how recent the problems were, but some lenders will consider clients who have defaults or CCJ's as recent as 3 months ago. Make sure you ask and find the right lender to ask.
Myth: The timescale of the payment issues matters
There is some truth in this as the more historic the blip, the lower the rate and deposit you'll need.
But there are also some lenders who don't mind if the default or CCJ is still outstanding or paid. The more mainstream lenders, on the other hand, are less likely to accept your application if they're unpaid.
Had a Bankruptcy or IVA (Individual Voluntary Arrangement)? The time will affect these differently too. Some mortgage lenders will look for six years since the discharge and some will lend to you even if you were discharged only three or possibly two years ago.
Myth: Google is your friend
In this internet-driven time we're all as guilty as the next person to think that we can Google for the best deals, answers, and offers. But there are many industries like holidays and travel where you may not get the best deals, as they're not online.
Mortgages are the same. Many lenders don't show all their deals and products online and instead offer some preferential exclusive products to mortgage advisors like us. We have access to more than you do, and more than Google does. So, if you've searched online for a mortgage and been disappointed, don't fret just yet!
There are a lot of 'intermediary only' lenders that you won't be able to speak to as you can't go direct.
For example: Lenders like Pepper Homeloans, Vida Homeloans and Precise who specialise in poor credit and can only be accessed through someone such as us.
Payday loans are frowned upon by most lenders. Some will lend if it's been repaid, but most do not like it if a client still has an active payday loan. These payday loans are best avoided wherever possible, regardless of any other factors. They're not a financially sensible option and you nearly always have better ways to get credit than these, often expensive, options that prey on the desperate.
Myth: I have a DMP so I can't get a mortgage
DMP (debt management plans) are OK to some lenders. This is generally when someone puts their hand up and says to their debt provider that they can't afford to pay. After agreeing a reduced payment, rather than going to default, this can be a far better outcome for both the lender and the customer.
Many lenders are OK with this as it shows a level of awareness for debt and payments so it's not always a bad thing. Again, this depends on how recent you entered the DMP and it will vary from lender to lender.
Help is at hand…
'Blips' are part of life and although you should always aim to keep up with your payments and avoid the risks associated with not paying them, some lenders do understand that you have had the odd slip up.
If you manage your credit history well and choose the right lenders and products there's often a way to get through it and get that mortgage agreed.
At Gough Mortgage + Protection we have the knowledge and the experience to know which lender is likely to accept your individual scenario, whether its previous defaults, CCJ's, debt management plans or even bankruptcies.
If you've been nervous about applying for a mortgage in the past, then please do give us a call.
We promise we won't charge you a fee unless a lender fully agrees your application, so if we're unable to help you, we won't charge.
Contact us now and we'll have a free initial chat and see how we can help you secure the borrowing for your next home. You can rest assured that our broker fee is only payable when the Mortgage Offer is issued, so if we can't help, there is no fee.
Your home may be repossessed if you do not keep up repayments on your Mortgage. Fees may be payable at a later stage.