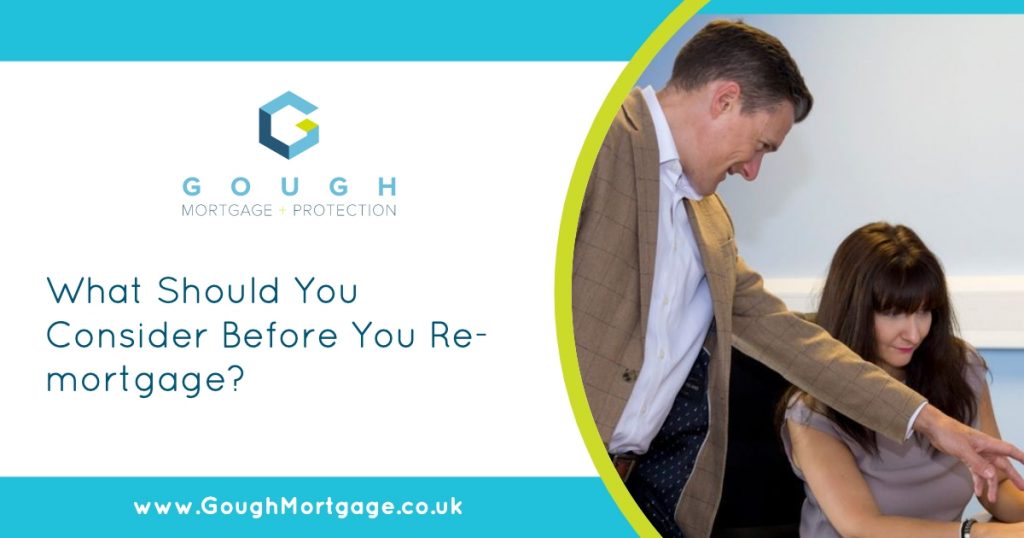 When is the Best Time to Re-mortgage? Here Are Some Points to Consider First…
Using the right information for you and your circumstances is key to paying the right amount and getting the right mortgage for you. Even with the most diligent of mortgage research when you're choosing a mortgage, your circumstances can change and of course many outside factors can come into play, too.
Brexit, interest rates, job position, and even a life-changing situation can have a huge impact on your finances and mortgage so it's not as simply as choosing a mortgage and sticking with it for the life of that product.
Re-mortgaging can be seen as costly and time-consuming idea. But the fact is, in this very fluid market, most mortgages are good for you for only a few years. Most products are great for the first 3-5 years and then you're advised to review them and others that you have access to.
Re-mortgaging is a big topic, but we wanted to share five myth-busting thoughts with you to help you better understand what a re-mortgage is, how it can help you, and what it means to your money.
So… grab a cuppa and have a read…
Will re-mortgaging save you money?
In many way – yes! Some mortgages are fixed for 2, 3, or 5 years. This can mean that after this fixed period your mortgage re-payments will go up and you could be better with another product.
Moving to another mortgage lender (which is essentially what a re-mortgage is) can often bring your re-payments down or at least keep them where they were when you took out the original mortgage. It certainly pays to shop around and get good advice when you're taking out a mortgage or re-mortgaging.
Do you need to/should you wait for your current mortgage to end?
No, not at all. You can move many mortgages to other lenders before your mortgage term ends. This can before the 3-5 year fixed period too. Most mortgage products will have an early re-payment fee built in and you're advised to check this before making any decisions.
In many cases, we find that paying this early repayment fee and moving to a more suitable product will actually save money and you can also build this fee into your new mortgage if it suits you and makes sense to do so.
Will you get a big solicitor's bill when you re-mortgage?
This is a big fear for many and in some cases it can come true. But you don't always have to pay a large fee, and in most cases we work with, it can be easily dealt with and sorted with the new mortgage lender. Many companies will happily pay the fee to get you onboard as a customer, making it an easier decision for you.
Of course, it pays (literally) to check what the situation is with your current and future lender before you make a decision and sign on the dotted line.
How does your financial situation and credit score affect a re-mortgage?
Just like when you take on a first time mortgage, your current financial situation will affect the offers you get and the mortgages you can apply for and be given. Your credit score will always be taken into account, along with your current employment status and of course other factors like dependents and age.
It's not unusual for someone's circumstance to have changed dramatically since their mortgage was taken out and in some situations it might be better to stay put than look for a better offer.
Of course, you should always be transparent and honest about your financial changes with your mortgage lender. Most lenders can help in some way if your life changes. The important thing is to tell them early, rather than when it's too late.
When you re-mortgage, which product should you choose?
Fixed rate or variable rate? With the recent increase to the base rate in 2017 and predictions that this will soon go up again to control inflation, it's a good idea to choose the right product now for the next few years. In uncertain times in the UK, with a new PM, Brexit, and the only certainly being a big change, planning your mortgage around this is paramount.
If you're after security and the comfort of knowing what you'll pay over the next 3-5 years then a fixed rate mortgage is the way to go. They may cost slightly more than a variable rate but with the increasing conversations about interest base rates rising in the UK, you might well be best to choose a fixed rate for the next 3-5 years to help you absorb the changes to your household bills in the coming year and months.
Our advice is to get advice
There's a reason we spend a lot of time reading, researching, and learning about mortgages. There's also a very good reason that we offer a whole of market approach to mortgages. And that's because nothing stays the same. House prices, products, situations, financial factors out of your control, and even the interest rate.
If you're looking to re-mortgage then get advice from someone like us who can give you impartial and up-to-date advice on your mortgage options.
Looking to re-mortgage? Contact us now and we'll give you the wealth of our knowledge and access to the whole of the market.
Your home may be repossessed if you do not keep up payments on your Mortgage. Fees may be payable at a later stage.