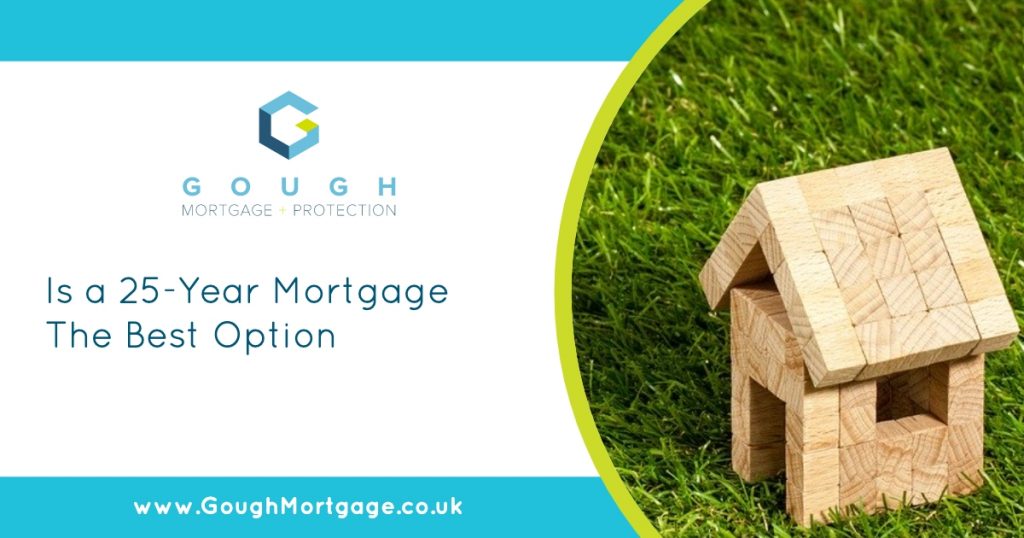 Gough Mortgage + Protection – Is a 25-Year Mortgage the Best Option (Or Do You Need Longer?)
The world is a very different place from 40 years ago. We live longer, many are having children later, and retiring further down the line than ever before. But how is that affecting home ownership, and what about mortgages? With the National Office of Statistics predicting that one in three babies born today will celebrate their 100th birthday, is it better to start thinking long-term? What are your options?
Let's take a look.
First-time buyers
These days there's a lot of talk about first-time buyers. The word on the grapevine is, young people are struggling to get on the ladder and older first time buyers are being locked out of the market. Much of the concern surrounds the amount of saving required to afford the initial cost of owning a home. Statistics from 2018 revealed that, on average, today's full-time worker needed 7.8 times their annual salary to buy a property in England or Wales. In some areas of London, this rose to 44.5 times annual earnings.
Andrew Hood, a senior research economist at the IFS said, "Home ownership among young adults has collapsed over the past 20 years, particularly for those on middle incomes." For 25- to 34-year-olds earning between £22,200 and £30,600 per year, home ownership has fallen by 27% in 2016 from 65% two decades ago. The question we're all looking to answer is, are people being priced out, or do today's expectations and life-maps need to change?
The forty-year mortgage
Traditionally, mortgages tended to last no longer than 25 years. But with people living later and young adults struggling to afford their first homes, longer-term mortgages are becoming increasingly popular. A Freedom of Information Act (FOIA) request, submitted by Ludlow Thompson revealed that homebuyers took out 3,483 mortgages with 40-year terms in 2018, a twenty-fold increase from 2017. Now more than half of the mortgages on offer in today's market come with 40-year options.
The extended 40-year mortgage is designed to help first-time buyers struggling with savings and affordability. For example, with a £200,000 repayment mortgage on a house valued at £250,000, repayments at a rate of 1.89% over 25 years would cost you £837.04 a month. Compare that same mortgage over a 40-year term, and your monthly repayments are reduced to £594.14 – a difference of £242.90 a month. For a nation battling with high house prices and stagnant wages, this could make or break owning a home.
The risks
Of course, with any long-term investment, there are risks for both sides to being tied in.
This year, the Home Owners Alliance says Quilter compared the market-leading 35-year mortgage with a 25-year mortgage. Both loans examined were available to buyers with a 10% deposit and offered a two-year fixed-rate of interest for a property worth £193,701 (the average price for a home paid by a first-time buyer). Analysts found the overall cost of the longer loan over its lifetime was £78,355 more expensive than the best-value loan for 25 years, coming to a total of £389,484 instead of £311,129.
While 35 and 40-year mortgage plans give young buyers the opportunity to reduce their monthly payments, and older generations citing a lack of suitable homes and a pricey market the chance to move on, it'll cost you more in the long run. So, to answer the big question, it all depends on your individual circumstances and your plans for the future. Before you commit to any type of mortgage deal, we'd strongly recommend you seek advice from professionals with strong knowledge of the market.
At Gough Mortgage + Protection, we don't charge you a single penny until your new mortgage is fully agreed on by a lender and the Mortgage Offer has been issued. So, if you're looking for a breakdown of your monthly costs and to discover the best mortgage plan to you, please get in touch with our friendly team today.
Your home may be repossessed if you do not keep up repayments on your mortgage.