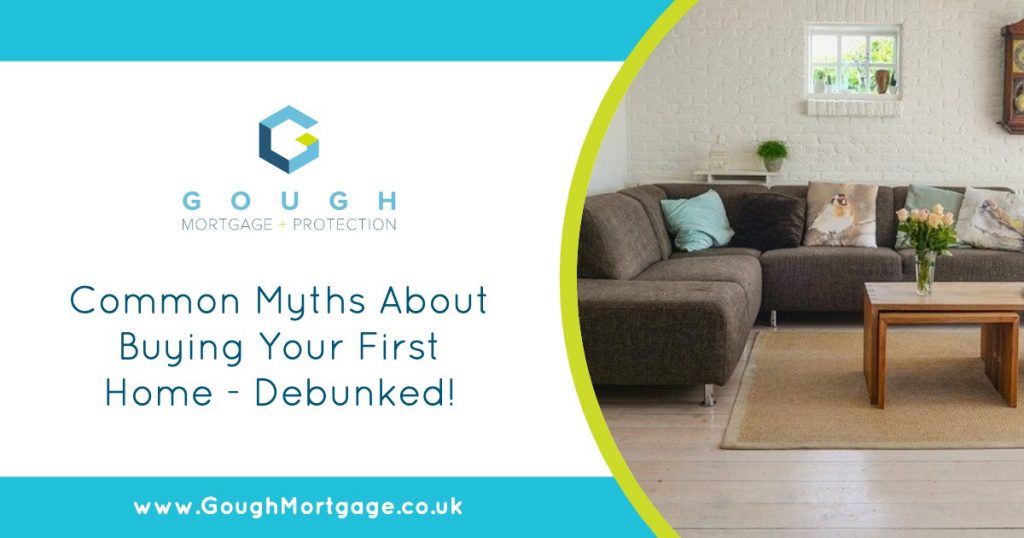 Common Myths About Buying Your First Home – Debunked!
Buying your first home can be exciting, but also nerve-wracking and confusing.
It doesn't help when there are so many myths and misconceptions flying around about what's involved for first-time buyers.
If you've taken advice about what you should take into account before buying your first home, there may be one or two myths you've inadvertently taken on board.
The chances are, you have an inkling that something might not be quite as it seems, and we'd like to help debunk any myths than have possibly entered your head.
Myth 1: It's an awesome investment
Don't get us wrong – buying a property can be an awesome way to make money, and it's why there are plenty of people doing it professionally.
However, it isn't guaranteed to be a cash generator. House prices remain volatile, and as smart as it is to get on the housing ladder, don't assume you'll make a healthy profit when it's time to sell.
Instead, focus on buying what you can afford and, when it becomes yours, keep an eye on the market to keep your expectations at bay.
Myth 2: You don't need to worry about the mortgage until you've found somewhere
It's easy to get carried away finding the 'perfect home', and this can lead many to jump the gun before they've got their finances in order.
Obviously, you won't need to apply for a mortgage until you've had an offer accepted on a property, but working out what you can realistically afford should always be your first job.
This will enable you to obtain an offer in principle from a mortgage company, which makes you a far more attractive buyer come offer time.
Myth 3: You need excellent credit
A clean credit file can certainly help with seeking a mortgage, but lenders aren't completely closed to working with buyers who have less than stellar scores.
Working with a whole of market mortgage advisor will help you find a mortgage that suits your situation and credit history.
Providing you're realistic about what you can afford and open about your credit history, there's usually a way to get the mortgage you need, thanks to the abundance of lenders and offers on the market these days.
Myth 4: You need a big deposit
Having a large deposit is certainly useful when buying a property, but few first-time buyers are blessed with those kinds of funds.
There are no true 100% mortgages on the market these days, but those of the 5% variety can still be found.
Therefore, if the Bank of Mum and Dad is unavailable but you have some savings scraped together, the deposit may not be as big a problem as you've been led to believe.
For instance, if you're looking at a new home you may be able to get help from the government via their Help to Buy equity loan scheme. Some builders will even offer incentives such as deposit contributions or by paying the stamp duty for you.
Myth 5: Your parents need cash if they want to get involved
It's a common misconception that parents can only help their kids get on the property ladder by stumping up some – or all – of the initial deposit.
There are other ways. Your parents could also act as guarantors on your mortgage; just bear in mind that they'll be responsible for any shortfall if you fall behind on your payments.
It's best to speak to your mortgage advisor about the options available if your parents want to help. Their credit history could be your saviour, but there are also a number of ways in which they can invest their money if they have the cash to hand.
Myth 6: Low interest rates = cheap mortgages
Mortgage companies are smart. They make low interest rates the focus of their marketing campaigns.
This might suggest the corresponding mortgage is cheap, but there are lots of factors that influence the overall cost of your mortgage. They include:
the type of deal (is it a discount, fixed-rate or tracker?);
up-front fees (although they can be added to the mortgage, these usually can be anything up to £2,000); and
the deal period (how many years before the interest rate creeps up?).
Make sure you read all of the small print for any mortgage you're considering – it's there for a reason.
Want to talk home buying?
We know how challenging it can be to enter the world of home buying for the first time. There's a lot to think about and plan.
We hope this blog is helpful, but if you'd like to get some more specific mortgage advice from people who care, just get in touch with our team, today for a free initial consultation.
Your home may be repossessed if you do not keep up repayments on your mortgage. Fees may be payable at a later stage.