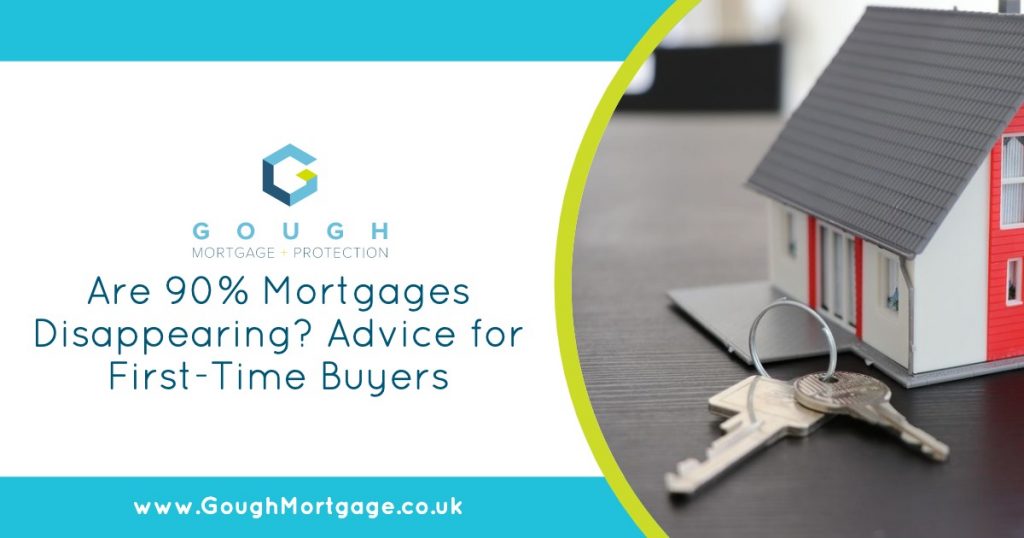 Are 90% Mortgages Disappearing? Advice for First-Time Buyers
HSBC revealed at the start of September that it will be temporarily suspending deals for new borrowers who have 10% deposits. This is due to a "significant consequence on service levels" following a large increase in enquiries from new borrowers.
Admittedly, by the time you read this, they may well have reinstated their 90% mortgages for first-time buyers. But there's a wider point at play here.
HSBC's decision neatly illustrates how volatile the mortgage market is at the moment. At the time of writing, there are very few 90% mortgage deals left on the market.
That's not really enough to go around.
Falling deals
It's thought that staff shortages and nervousness over the market are among the key reasons, with lenders having to focus more of their time on existing customers, with the ongoing mortgage holiday requests.
Low deposit mortgages normally take longer to underwrite. That makes them a higher risk for lenders, and it's one of the key reasons they're the first deals to get the chop when things get rough.
Despite this, HSBC were one of the few banks to continue offering 90% deals to new customers throughout this challenging period, and their reluctance to continue doing so – at least for the short term – threatens to derail a relatively buoyant market.
No one wants that. And the good news is there's still plenty of options for first-time buyers.
Give Nationwide a try
There's always another option when it comes to a first-time mortgage.
While HSBC are clearing their backlog, try Nationwide. At the time of writing, they're still offering 90% loan-to-value (LTV) mortgages at a competitive rate.
There are a few more strings attached than usual (for instance, a maximum term of 25 years, and tighter scrutiny on gifted deposits and no Flat's), but we will be happy to talk this through.
Chill – keep on renting until things improve
If you're renting at the moment but desperate to buy your own place – chill out, there's no rush. Providing the property is secure, feels like home and you can afford the rent, you have a roof above your head, and you have that all-important thing: time.
Use this time to continue saving if you can and keep an eagle eye on the mortgage market (and this blog). Things may change for the better.
Check out the Barclays Family Springboard
Barclays have a deal where they will lend you 100% of the cost of buying your home without the need for a deposit.
Sound too good to be true? It isn't, but you will need someone to help you out.
This person (it could be your parents, a friend, or some other generous family member) will need to put a sum equal to 10% of the purchase price into one of Barclay's Helpful Start accounts. They'll get a decent interest rate in return and it might work for your situation.
The last resort: borrow your deposit
This really is a last resort – we can't stress that enough.
Borrowing significant amounts of money from friends or family is riddled with problems, and can put significant strain on relationships.
However, if you think there's an option for this and you absolutely need to buy your new home now, speak candidly with that person. If you both go into it fully committed, it can be viable option, but we recommend exploring every other avenue first. Some lenders will allow you to borrow the deposit, but there is strict criteria over repayment.
Remember – if you can wait for things to improve, wait.
There are other options as we noted in one of our previous blogs here.
What does the future look like?
So, are banks really quitting the first-time market, or is this just yet another bump in a very bumpy road?
We think it's the latter. The housing market might be volatile at the moment, but it has come through plenty of challenging times in the past.
However, if you're a first-time buyer, we appreciate you may need some friendly advice at the moment – and that's what we're here for. Get in touch and we'll do our best to offer our support.
Your home may be repossessed if you do not keep up repayments on your Mortgage